Nova Invazija u Kruševcu!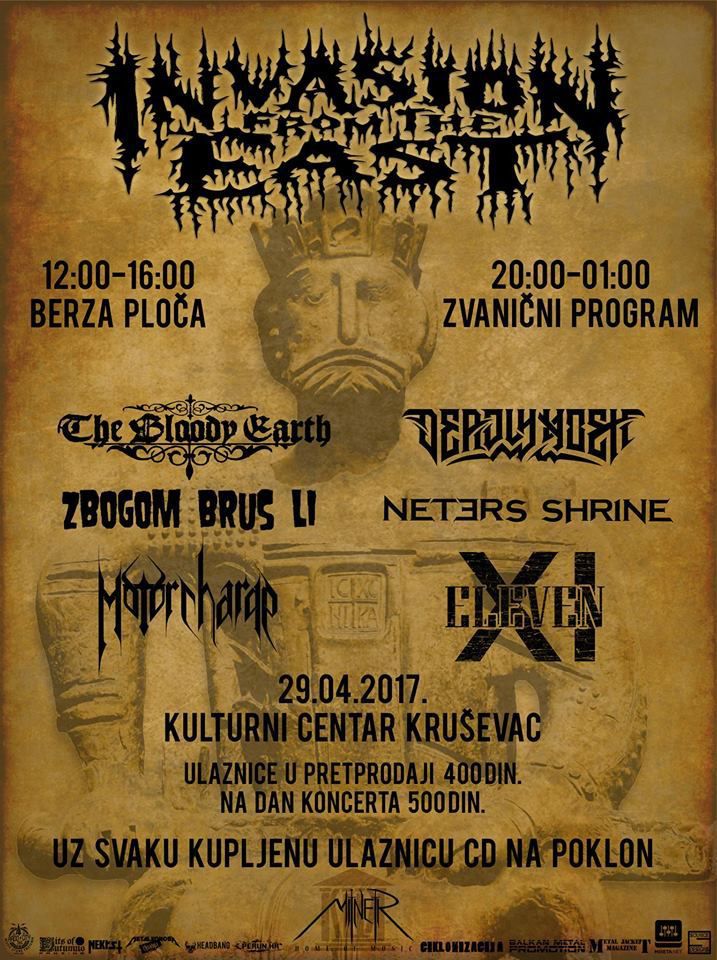 Još jedna u nizu opaka Invazija organizovana od strane Miner Recordings! Ova će biti održana u Kruševcu u Kulturnom centru 29.4. Tog dana pre lomljave na bini biće održana berza ploča u trajanju od 12:00 do 16:00. Festival će trajati u period od 20:00 do 01:00, a satnica je sledeća:
20:30 - 20:50 Motorcharge (Rock N Roll)
21:00 - 21:25 Novembar XI (Hard Rock)
21:35 - 22:00 Neters Shrine (Thrash Metal)
22:10 - 23:10 Zbogom Brus Li (Punk Rock)
23:20 - 00:00 Deadly Mosh (Thrash Metal)
00:10 - 01:00 The Bloody Earth (Death / Doom Metal)
Event link: Invasion From The East - Kruševac
Karte za ovo zadovoljstvo su u pretprodaji po ceni od 400 dinara, a na ulazu će koštati 500 dinara. Svaki posetilac festivala će uz kupljenu kartu dobiti i po jedan CD!